Upper Sacramento River
The Sacramento River starts in Mount Shasta, California from a natural underground spring and flows into Lake Siskiyou Reservoir. The Upper Sacramento River runs from Lake Siskiyou Dam, about 6 miles above Dunsmuir to Lake head, about twenty five miles of river to Shasta Lake. Greg focuses on this system after the snow melt from June through September. These trips are walk and wade. In June the hatches are Salmon Fly, Golden Stone Fly, Yellow Stone Fly, and the Green Drakes. We will use these fly's in tandem (dry, dry) or dry dropper (dry, subsurface nymphing), and if necessary nymphing (subsurface). After July the Stone Fly hatches are dropping off so we change are focus to Caddis and PMD's. We will use these offerings September and then comes the legendary October Caddis (the grand daddy of Caddis). The October Caddis can run through December.
Lower Sacramento River
The Lower Sacramento River starts below Shasta Dam, flows into Keswick Reservoir, and then technically starts our Sacramento River. Since the Lower Sacramento River is a dammed river it isfishable most of the time (except in extreme flood conditions). While most coastal and un-dammed rivers are blown out from rain very rarely does the Sacramento River between Redding and Anderson do so. "Salmon – Trout – Steelhead Magazine" rated the Sacramento River "Best Wild Trout Fishing in California". It is not uncommon to hook a 24″ trout with the average fish being 14-18″.
Lower Sacramento River in Redding to Anderson's Deschutes Bridge is the premier and final destination for spawning King (Chinook) Salmon. This area is designated, "protective spawning grounds." October through February is the main spawning season for salmon on the Lower Sacramento River. Enjoy egg drifting with a nymph or tandem eggs for catching trout. Try to get your egg through the salmon redds if you can avoid the wild spawning King Salmon you are sure to hook up on a beautiful wild Rainbow Trout. The Spring and Summer is dry fly time. Greg will do nymphing and dry flies. March, April & May we'll see March Browns, Spring Caddis (black or olive colored) with PMD's and BWO's. June through September starts our legendary Summer Caddis (hydro-phyc),Salmon Fly, Golden Stone Fly, Yellow Stone Fly PMD's and BWO's. This Sacramento River system is truly a diamond and your guide Greg Hector will make sure it is a trip you will never forget.

Fishing at Sunset on the Sacramento River in Redding is a beautiful experience and the fish are more active.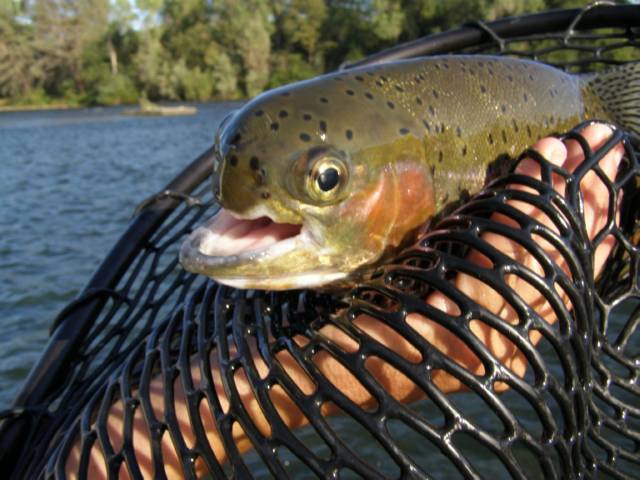 Rare Snub Nose Trout was caught for the 2nd time by Gret Hector. Greg caught the same fish 2 years ago. This cause of the snub nose is probably a genetic defect of the fish and is very rare.