Trinity River
12/17/2018
steelhead fishing is good after the rain and it seems to tighten up then it rains again and it's good again. There throughout the system. We're catching them on rubber legs, copper Johns, pheasant tails, an egg patterns. They're moving around so some days they seem to eat better then other days we have to work for them. When the water gets clear it seems to toughen up the bite. But now we have rain intermittent so that should keep some color in the river.
Sacramento River
12/17/2018
This River fishing consistent mayflies have been the bag of choice both blue winged Olive and pale morning dun. If it's a warmer day they'll be some caddis in there also.
Trinity River

12/1/2018
The Trinity River has had a push a fish show up finally. With no rain they did move up but they are here now. They'll be in all the normal bug stuff rubber legs, copper Johns all colors,pheasant tails and princess stoneflies Also eggs especially if there's color in the water.
Sacramento River
12/1/2018
What can you say this thing just such a consistent Fishery. We are experiencing runoff on both sides of the mountain. Sacramento River seems to be a more delicate or sensitive to mudding from the car fire. But it is not coming through the Lakes which means it'll clear fast. Bugs that are working caddisflies, mayflies and both PMD and bwo. So nice size fish fish up to 25 inches
Klamath River
12/1/2018
Klamath River this river is fishing good as been the most productive of the year. You can expect a lot of fish but the steelhead run a little on the smaller side 2 to 5 pounds with a occasional bigger fish. Rubber legs, eggs another steelhead patterns the old standbys copper Johns, princes xcetera nonetheless all three rivers can give you the opportunities that you need in Northern California.
Sacramento River
10/31/2018
The Sacramento River in northern California is one of your top picks for a busy day. We're catching trophy size rainbows fish up to 26 inches. Are Hardy bows are gobbling eggs. Can also get them on caddis and mayflies . I fly fishing guided trip is your best bet it's a big river that runs right now at 6000 cubic feet per second.
Trinity river
10/31/2018
Right now we need rain on the Trinity with rain in the forecast there should be a push of fish that will come. November is typically a great trip. If it's still fishing slow you can switch your float to the Klamath or Trinity. What's rain next week take the timing could be very good depending on how much rain.
Klamath River
10/31/2018
This is where to be right now. It is loaded with steelhead. A very busy day lots of king salmon egg bite is very good. Some great fishing in Northern California this is the time of year to book a guided trip with hookem Hecky's Guide Service.
Sacramento River Report
10/16/2018
Sacramento river is in full swing. If you want big bows you're at the right place. Salmon bite is going very well which in return creates the famous egg bites on the lower Sacramento River in Redding. Fires are out. Temperatures are right. Nothing better than a guided float trip on the lower Sacramento river in northern California.
Trinity River
10/16/2018
We just got to push a fish up with a half inch of rain that put out all the fires. The air is clear fall colors or beautiful and there's some very nice steelhead in the river. If you haven't experienced this Gem . Book a trip with hookem Hecky's and I'll show you why we call this River the serenity of the trinity.
Sacramento River Fishing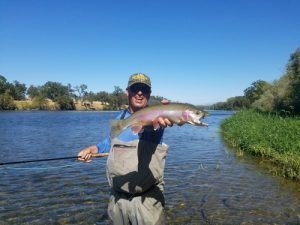 September 27 2018
Sacramento River famous egg bike time is upon us. We have a good King season so expect to have lots of Kings on the nest for spawning. Will be using eggs and eggs. It is an egg bite!. Temperatures are nice and smoke and fires are out. Come up and see what all this hype is about.
Trinity River Fishing
September 27 2018
Trinity River. What's our first storm approaching this weekend and still had already in the river and the reports of steelhead still to come it looks like it's going to be a stellar season. All the normal stuff will be working. Rubber legs, copper Johns, bird's nest in Caddis, along with all other traditional steelhead nymphs. One of the few systems that has a full run on the West Coast. Catching steelhead in t-shirts. Usually it's a winter thing on most rivers. Come fish this gem you won't be disappointed
September 2018 – Fishing is Good!
Sacramento River, the Sacramento River is fishing good with Caddis and mayflies. Also stonefly patterns are working well also. Fall is upon us and it looks like going to be an early fall. Temperatures have been in the mid-80s to mid 90s instead of the dreaded hundreds for a couple of weeks.
Trinity River. Salmon and steelhead are making their way into the system. Salmon are eating quick fish reaction bait.
Steelhead are eating rubber leg stonefly, copper johns , Prince nymphs, and egg patterns.
July 2018 – Best Trout Fishing
Sacramento River is fishing well using summer Caddis and blue Wing Olive mayflies and pale morning dun mayflies. In the evenings we are throwing Caddis dry flies very fun to catch him on the surface. The lower Sacramento River is unarguably the best trout fishing in California. Come fish with me and see why.
Trinity River fishing report. Salmon are making their way up the system with the bulk of the Run still coming. I was fishing by the mouth and some of the locals down there was saying was some of the best fishing last week that they've seen in years. The Trinity River is a wonderful place to enjoy solitude and hook up on one of these Kings. Look forward to seeing you on the water.
February 2018 – Fly Fishing Report
Mad River Fly Fishing Report
Caught this fish (pictured right) on the Mad River. Seeing about 30 steelhead hooked this month, averaging about 3 hook ups a day eel system. This river you have to decide to fish upon week or less notice. It doesn't need to rain much to Dirty. These fish are up to twenty pounds. Average fish is 8 to 10 pounds. With fish 20 pounds +. This river runs along the avenue of the giants a famous scenic highway. I wonder if they named for the steelhead or the giant redwood trees it goes through. Just a odd coincidence I guess. Fishing into March is good on this river.
Trinity River Fly Fishing Report
Trinity River still fishing fair. The system should last into March. Average steelhead 4 to 6 pounds with a occasional 10  + Pounder.  This river will stay in shape while others blow out. Weather pattern is turning to a wetter pattern that should keep fishing coming up the Trinity.
Sacramento River Fly Fishing Report
Sacramento River is fishing awesome. We are catching these fish under indicators. Black Caddis , pmd patterns, stone patterns, egg patterns: drys are great 2. Having up to 5 hours of drys caddies and pmd patterns. Spey swinging is also working well with small leech patterns . This river will also not dirty as easy in storms due to dam control.
May 2018
Breezy but Beautiful Day on the Sacramento, but lots of fish hooked up.