September 2017 – Sacramento Fly Fishing Guide Report
Well here we are again the Fall Fishing Season! Arguable my favorite time of the year! I don't know about you, but I am so over the 100+ temps in Redding, and it is so NICE to have nice comfortable temps again. Combined with the beautiful landscape, and leaves starting to turn color, there is no better place to be than Fly Fishing on the Sacramento River.  The most exciting thing of all about this time of year, is the explosive egg bite that has started to happen on the river from the salmon, and the Fall Run Steelhead on the Trinity River. Fly fishing for these trophy fish is the ultimate reward.
Fishing doesn't get any better than right now on the Sacramento and Trinity Rivers, you simply can't go wrong with booking a Fly Fishing Guided Trip with Hook'em Hecky's. The season runs from October to February on the Trinity River, and always good fishing October – May on the Lower Sacramento River. That being said you can't go wrong was booking a trip with hookem Hecky's Guide Service. This season last October till February on the Trinity River. And we'll see good fishing October through May on the lower Sacramento River. Tight lines hope to see you on the water!
August 2017 – Fly Fishing Guide Report
August 7th, 2017:
Well hello everybody! How blessed we are to live in the wonderful Northern California. Fly fishing on the Sacramento River that flows through Redding is some of the best trout fishing on the planet. I would like to take a moment to thank all of the wonderful people that have chosen Hook'em Hecky's Guide Service to facilitate them on their fly fishing adventures. I have enjoyed so much watching my clients cast improve or their hook sets or whatever facets we were working on. I really enjoyed watching the young people I've guided. Many of them never touched a fly rod. And to see them succeed in their fly fishing efforts has been such a joy! Thank you very much to all of you!
We are on one of the hottest summers on record. We've had 46 days over a hundred degrees. 7 more days and we'll break the record of the most consecutive days over 100 degrees in Redding! Wow! With that being said when you're fly fishing on the Sacramento River through Redding California we will meet in the evenings, fish for 3 hours, and not even break a sweat. It's like having air conditioning on the river! The key for fly fishing in this Redding heat, is going in the evening.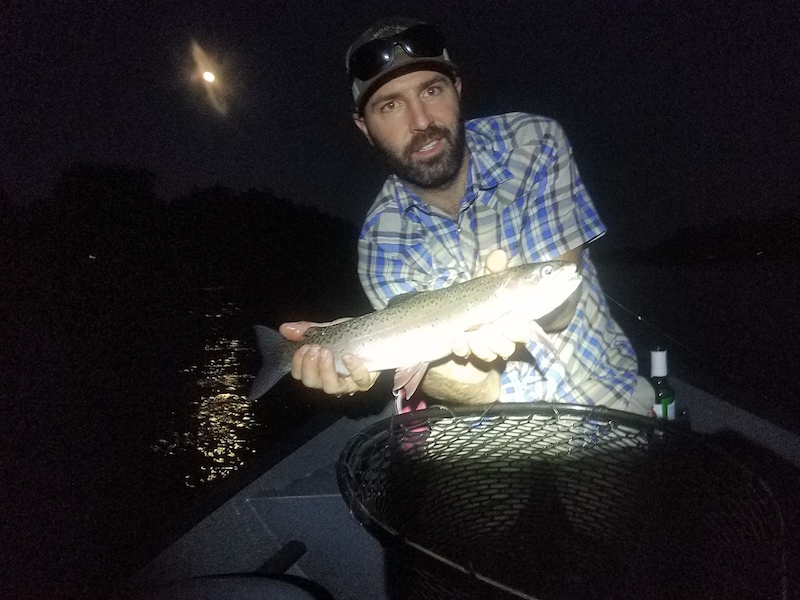 Fishing for bows on the Sacramento River has been excellent. Usually we're hooking on average about 20 rainbows. We've been using all Caddis and blue wing Olive mayflies, and the rainbow trout have been averaging 18 inches. That is our average fish. Unbelievable! If you are looking for a thrill of a lifetime, book your three hour tour with Greg Hector of Hook'em Hecky's! Hurry before the summer is over and experience some of this awesomeness on the river, and escape the heat with a Sacramento River guided fly-fishing tour!
July 2017 – Redding Fly Fishing Guide Report
July 24th – Today I fished the Trinity River old school! We hooked Four Kings, and had eight other takedowns. A total of 12 opportunities. The Trinity River is so nice, and a great place to get away from the rat race. As of right now, Trinity River is the place to be! Salmon Season goes til only August 31st, so if you are looking to hook an adult King Salmon, give us a call, we'll give you a fishing experience of a lifetime!
The lower Sacramento River that runs through Redding California is fishing good right now as well! With Caddis and mayflies fly fishing, we are catching fish on the Sacramento River throwing adult Caddis for rainbows. These fish are up to 25 inches and built like footballs. Either River translates to a great experience. Take your pick you can't go wrong with a guided trip with Greg Hector of Hookem Hecky's! Book your fly fishing guided trip
online
or call 530-515-5918.
July 6th – Well the rainbow trout fishing couldn't have been any better. It still amazes me that Northern California has fish that people travel to Montana to catch. I know because my clients have told me time and time again! Sacramento River stretch that runs through Redding to Red Bluff is truly magnificent, some of the best fishing in the world. Then when you venture further north, in the upper Sacramento River, the McCloud & Klamath Rivers, and up into Oregon, there is some awesome fishing there as well.Then you look West Coastal Rivers Trinity River. Then you look East Fall River, pit River along with numerous Lakes. And then South within 50 miles Feather River, Yuba River. We truly are blessed in Northern California to have the best fishing waters around! Redding happens to be right smack dab in the middle, and is the central point of some of the best fishing in the country.
Yesterday seemed to be Caddis that produced the most. I also got new a nice dry bite last half-hour. Must have been a 100 degrees in Redding but you wouldn't know it where we were. I had 3 awesome people in my boat yesterday; Danelle, Brett and Jay. Danelle was the winner of the
Tugwell Roofing
Father's Day Giveaway that we teamed up with Tugwell Roofing on. Danelle picked up to this like a fish in water, and she did a great job! Brett also had a great day, and Jay I look forward to spending more time with you! It was a pleasure fishing the three of you! When you're looking for your next Family Vacation in Northern California, give Hookem Hecky's a call! Book your fly fishing guided trip
online
or call 530-515-5918
June 2017 – Redding Fly Fishing Guide Report
June 19th – Greg Hector here, your local Redding Fly Fishing Guide! Wanted to give you all an update on the Sacramento River. The Sacramento River offers something different than other rivers in California. And that is the average fish size, is BIG! The main reason for this is due to the food source on the Sacramento River. With prolific hatches of caddis, mayflies, stoneflies, midges , salmon eggs and let's don't forget these fish are carnivores they eat salmon carcass. I believe that is all things that contribute to their size.
When you are being guided you'll be taught the correct techniques with patience and understanding. You will also be guided with a luxury drift boat, comfortable seats , clean, padded leg braces, etc. Also provided refreshments and snacks on my evening and half day trips. Deli sandwich included on full day trips. You will also fish for rainbow trout with top equipment Sage, Orvis , Calvin or Ross reels. We use the most sophisticated fly fishing equipment on the Earth. No exaggeration I will put $1,000 system in your hand. So book your day now for your guide trip on the lower Sacramento River you won't be disappointed. – Greg Hector
June 18th – Father's Day! Nothing better than fishing on the Sacramento River with my sons! Hot Summer Nights with Caddis hatches on the lower Sacramento River through Redding California, there is no better way to spend the day and catching monster bows under a strike indicator, followed by dry fly fishing with a Caddis. Elk hair Caddis, EC cutter, and I like the visible caddis. Size 16 will work in those patterns. Right now we're doing evening guided tours 3 hours $ 275, or half days in the mornings 5 hours $375. Combined trips $550 for 2 people.
June 7th – The Sacramento River is in full summer swing! In the evenings on summer caddis good old fashioned drys, in nymphs you will want to use caddis, pmd and bwo mayfly patterns. Also egg patterns are working well! A Redding Fly Fishing Guide trip on the Sacramento river is your best bet for a enjoyable day. Book your fly fishing guided trip online or call 530-515-5918
May 2017 – Redding Fly Fishing Guide Report
May 22nd – Huge Day, upwards of 40 hookups. Fish were eating eggs, rubberlegs (size 4 big boys), and caddis. A day fly fishing on the Lower Sacramento with a fishing guide that can get it done, is the way to go! The river is at 13,000 CFS and holding steady, this will probably be our summertime flow. So get use to it! Because it will most likely be like this until middle of September.
May 15th – Fished a few days lower Sacramento River last week. River fishing was good! Caught these nice fish with Larry and Mac. Fish were eating mostly eggs few on mayflies. Second day we had a cold front come in. River fished a little slower. Still caught some nice fish though. Eggs was still the best bait option.
May 8th – Right now the Sacramento River has flows starting to steady at 13,000 CFS. Fly fishing is working well with rubber legs, egg patterns, caddis, mayflies (both P.m.d and b.w.o patterns), yellow sallies stone fly patterns. The lower Sacramento is a good system two fish with a fly fishing guide due to its lack of bank access. Come enjoy your day with Hookem Hecky's Guide Service. Hope to see you on the water!
May 1st – We had another great day on the lower Sacramento River. With stream so high with snow melt your choices will be limited this year during the spring season, til runoff subsides. The river is fishing good with egg patterns and nymph bite is picking up. Book a trip with Hookem Hecky's to experience the greatest Redding Fly Fishing Guide experience of your life! Call 530-515-5918 to book an appointment.
The lower Sacramento River is fishing very good with some fish going to 25 inches!! Average rainbow is around 15 – 18 inches. We are now leaving the torrential rain and going into spring with average temperatures in the 80's. The trout our feeding on egg patterns and stoneflies, caddis, and mayflies. Book a trip today! Give it go, you will not be disappointed! Til next post… Tight Lines!