December 8, 2014
Sacramento River
Fly Fishing
The rain is here we have about 4 feet visibility on the Sacramento River, we are catching between 15 to 20 Bows a day. I have been fishing the top part of the Sacramento River by Caldwell Park with good success.
November 4, 2014
Sacramento River
Fly Fishing
Sacramento River Fishing Report
The Sacramento Rivere thru Redding, CA to Red Bluff, CA, continues to fish well with Egg Patterns. We got some rain the river is running with about 6 Feet visibility due to Shasta Lake water visibility. Using Nymphs, Caddis, BWO, PMD's, are all working. This is NOrthern California's busiest time on the water, so book your trip soon due to limited availability.
Trinity River Fly Fishing Report
The Steelhead are throughout the Trinity, we had some good fishing during the rain. We are hooking between 5 and 10 Steelhead per trip, the average size is 5 to 8lbs, with an occaisional fish over 10 pounds. We are catching them on Eggs, Salmon Fly Patterns, and other small nymphs, and Copper Johns. The season is just getting kicked off, and runs from late September thru March all and book your steelhead adventure today!
September 4, 2014
Sacramento River
Fly Fishing
The Sacramento River is fishing good, the best bite seems to be on the top part of the float. We should have an egg bite starting in the next two weeks, that's when it starts fishing the best and it turns on. The Caddis seems to be the best, with a few PMD's and BWO's.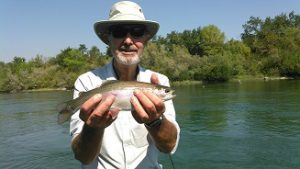 August 27, 2014
Trinity Salmon Fishing (Update)
I'll talk about the Trinity River first, the Salmon are coming up the Trinity, we been having some good days. The flows are running 2400 C.F.S. and will be dropping to 950 C.F.S. by Friday, August 29, and will be on a raise lower short notice until September 14, 2014 to prevent a Salmon Kill in the Lower Klamath River. There should be a nice run of fish that will be there for the September 1, 2014, three fish per day with a total of 9 Adult Salmon possession limit. I also believe that this will push some Steelhead up, and things should get started Steelhead wise in September.

August 27, 2014
Sacramento River Fly Fishing (Update)
As you can see by the nice Rainbow Trout that Lindsey caught, ( she is a stand-out fast pitch softball player from Washington), there is some nice Bows in the lower Sacramento River to be had. With the Salmon coming up, I think the Spawn is going to start by the second to third week of September, 2014, Caddis, Mayfiles and eggs are all working with the average Rainbow Trout 14 to 18 inches. We got a Rainbow last week that was 25 inches football, we guessed the weight to be in the 6lb class. I hope to see you on the water, and Tight Lines!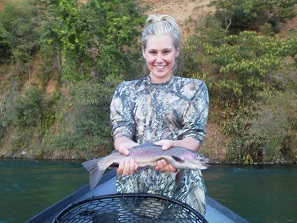 Sacramento River
Fly Fishing
July 21, 2014
The Sacramento River is fishing moderate to good, the fish are taking eggs, Summer Caddis, PMD's, and Baetis. The average fish is 16 inches with some fish over 20 inches, the dries we are getting about a half hour and sometimes up to an hour of intense dry fly activity. The Rainbow Trout are eating best when the Summer Caddis come out in the evening. The weather has been pretty mild the last two days, it's a perfect time out on the water.
June 15, 2014
Sacramento River Fly Fishing
The current release to the Sacramento River is 9,500 C.F.S. Last year at this time it was over 12,000 C.F.S., we may not see the high flows that we saw last year, which topped out at 15,600 C.F.S. The River is fishing well, with Summer Caddis, Yellow Stones, PMD's, and Blue Wing Olive Mayflies. We have been running Indicators during the day, and the last hour throwing Caddis Dries. Right now we are on a cool spell in Redding with Temperatures in the upper 80's and low 90's.
May 31, 2014
Klamath River
The Salmon Fly Hatch is going now, it's an awesome time to have an opportunity at Adult Steelhead. The Hatch is best at the upper end by Hornbrook.
May 31, 2014
Sacramento River Fly Fishing
The River is fishing good, catching them on egg patterns, caddis and Pale Morning Dunes with some Dry's in the eveing with Caddis and PMD's. The River is flowing at 9000 C.F.S.
May 12, 2014
Sacramento River Fly Fishing
Sacramento River is Fly Fishing well. We are catching our fish on Summer Caddis (Hydropsych), egg patterns and Mayflys,(Pale Morning Dun Baetis). Bite seems to be pretty strong in the morning and through the afternoon, tapering off between 3pm and 4pm. We are using a nymphing system with a strike indicator. Flows are going up and will probalbly plateau sometime in June. This drought year the flows are slow which is good to allow fish to acclimate quickly. The Spring temperatures are wonderful hovering around the 80s and it's a great time to get on the water and fish.
Book your Sacramento Fly Fishing Guide Trip Now!