December 10, 2011
Sacramento River
Today I guided Chuck and his son, John. They were 10 for 14, most of the fish bite on eggs. We caught two fish over 20′. I had a really good time guiding these guys. It sure is nice having the Sacramento River, fish so consistent. This river really fishes well most of the time.
December 7 &8, 2011
Trinity River
Hookem Heckys advice was to move the trip to the Lower Sacramento River, but Justin who caught the Steelhead paved the way for Day 2 Trinity River. We floated Bucktail to Steele, with the hopes of finding more fish, however, it was a tough day. We hooked 1 Steelhead briefly, by briefly I saw the fish flash in the water. That was all we got the whole day. Justin who was in Forrests boat landed a 1/2 pounder, and an adult steelhead around 5lbs. They say steelheading can be best bass songs a very selfish passion. It looks that was the case here. I hope to see you guys in the Spring. Right now we really need rain, after the rain there will be more fish. Other than that the Lower Sacramento is fishing good.
Today I had a two boat trip, with additional Guide, Forrest Brizendine. Fished Junction City to Pigeon Point, my boat was 0-3. I fished with Owen and Rob. Forrest fished with Justin and Greg. Justin landed a fish, Forrest Boat was 1 for 3.
December 2, 2011
Sacramento River
I fished Butch and Pat on the lower Sacramento River, and it fished good. We hooked over 30 Trout, we had a little trouble landing the fish. When you fish with barbless hooks you have to play these fish very tight because if you don't the hooks will fall out. You have to be ready to let them run at the drop of a dime, because if you don't they will break the line. We finished strong and landed a good ratio towards the end of the day.
December 1 , 2011
Trinity River
I fished with Butch and Pat, we hooked 3 Steelhead but we did not land any. Pat got a German Brown about 20 inches.
November 22, 2011
Trinity River
Today I did a 2 boat trip with Bob Norman. We floated Evans Bar to Sky. We were 2 for 5 Steelhead. It was work, but it was a good trip.
November 19, 2011
Trinity River
Today I fished with Matt, we were 1 for 5 for Steelhead. This fish ate a Blue Copper John. The Trinity River will test all Anglers. Matt did a good job.
November 14 & 15, 2011
Trinity River
November 7 & 8, 2011
Trinity River Fly Fishing
November 9, 2011
Sacramento River
November 5, 2011
Trinity River
Fly Fishing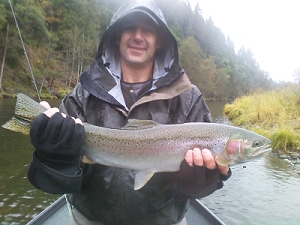 November 4, 2011
Trinity River Fly Fishing
October 29 & 30, 2011
Trinity River
October 28, 2011
Trinity River
October 27, 2011
Sacramento River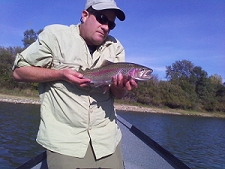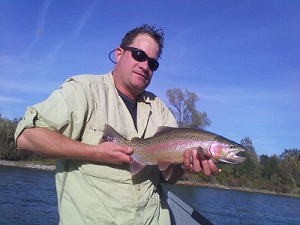 October 25, 2011
Walk and Wade Trip
October 23, 2011
SacramentoRiver
October 21 & 22, 2011
Trinity River
I did a two boat trip with Al, Nick, Greg and Lee. Along with myself the other guide was Aaron Grabiel. The first day we floated from Junction City to Pigeon Point. The Trinity fished pretty good we used eggs and October Caddis and Copper Johns. We were 2 for 8, with a sucker fish, and Aaron also did well with Greg landing 5 Steelhead, the biggest one was about 8lbs. DAY TWO we floated Evans Bar to Junction City and you could tell it was a Saturday. The word is out. Today we couldn't keep them on we were 1 for 8, one of those fish was a Salmon and another one was a nice Brown. Aaron fished Greg and Lee, Greg again landed 5, and Lee got a nice one at the end of the day. Thanks Al for the dinner at the LaGrange, as always good food!
October 18, 2011
Sacramento River
Today I guided Larry and Tom from the Rooster's Fly Fishing Club in Novato, California,these guys are great to have in the boat they love fishing and it makes it easy to guide them. The Sacramento egg bite is good. I don't have know how many we hooked probably upwards of 20, it was fun day. I will be on the Sacramento River on Sunday, October 21, 2011, I will have another report for you then.
October 17 2011
Trinity River
I fished Jeff and Zach today on the TrinityRiver. We were 5 for 13 on adult steelhead, one of fish we caught was a brown trout with a 8 to10 inch fish stuck in his throat, he tried to eat the egg anyway we removed the fish from his mouth. My camera wasn't working soI have no pics. We caught fish almost in every run. My next day is on Oct. 21, 22 and 23. I will have a post next week for the Trinity River and on Sacramento River on October 23 .
These pics. were courtesy of Jeff.
October 15,2011
Sacramento River
Today I fished Matt and John. We hooked 21 nice Bows on the Sacramento River in Redding.We floated to Anderson the salmon redds are just starting to happen.Egg pattern, caddis , bluewing olive mayflies are working.(caddis Birdsnest,foxes pooopah, mayflies zacks psuedo ,hogans s&m mayflyare working.Thanks John for the pics.
October 13, 2011
Trinity River
The fish are in, Steelhead and Salmon. I fished the Trinity River in Junction City, CA, the flows were around a 1,000 c.f.s., but on the drop. By 2 PM they were around 800 c.f.s., then the fish started biting. I fished with Matt and Jim, we were 2 for 8, Jim landed a Native Steelhead approximately 8lbs, Matt got one about 4 lbs. I was really impressed with the number of fish we saw that day. This trip was on October 11, 2011.
I was over for the Orvis.com, StreamTechBoats.com, and Sawer oars .com, Barbeque promotional and let me say these guys have some great products. I was able to try out all of the equipment (products) on the river. I rowed a streamtech raft and it was awesome, you can access a lot more shallow water, I am seriously thinking about getting one for myself. I tried out the Sawer Oars for the first time and again thinking about purchasing. Lastly, I fished Orvis Helios Fly rods, and I am now staffed with the Orvis Company. I recommend all of the above, they just are really good products. Chris Kennedy (below in the green) from The Fly Shop in Redding went on the demo with me. We did more scouting than fishing, but I did get that fish (below) on the bottom. I currently have some opening's for the fall, but don't wait to book you trip.
It is time to go steelhead fishing the fish are there, call now for your booking!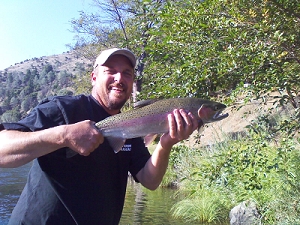 October 5, 2011
Sacramento River
Fly Fishing
The Sacramento river is fishing well, Caddis and Mayflies seem to be working well. This year in addition to the Rainbow Trout, we also have Salmon in the River, this means we should have a good egg bite. Below was an awesome day on the Sacramento River, clients did a great job as you can see by the nice Rainbow Trout.
October 5, 2011
Trinity River
This has been a great year for King salmon. We are expecting a good steelhead run too. We just recently got a couple of inches of rain, and it should be enough to get these fish into the upper river .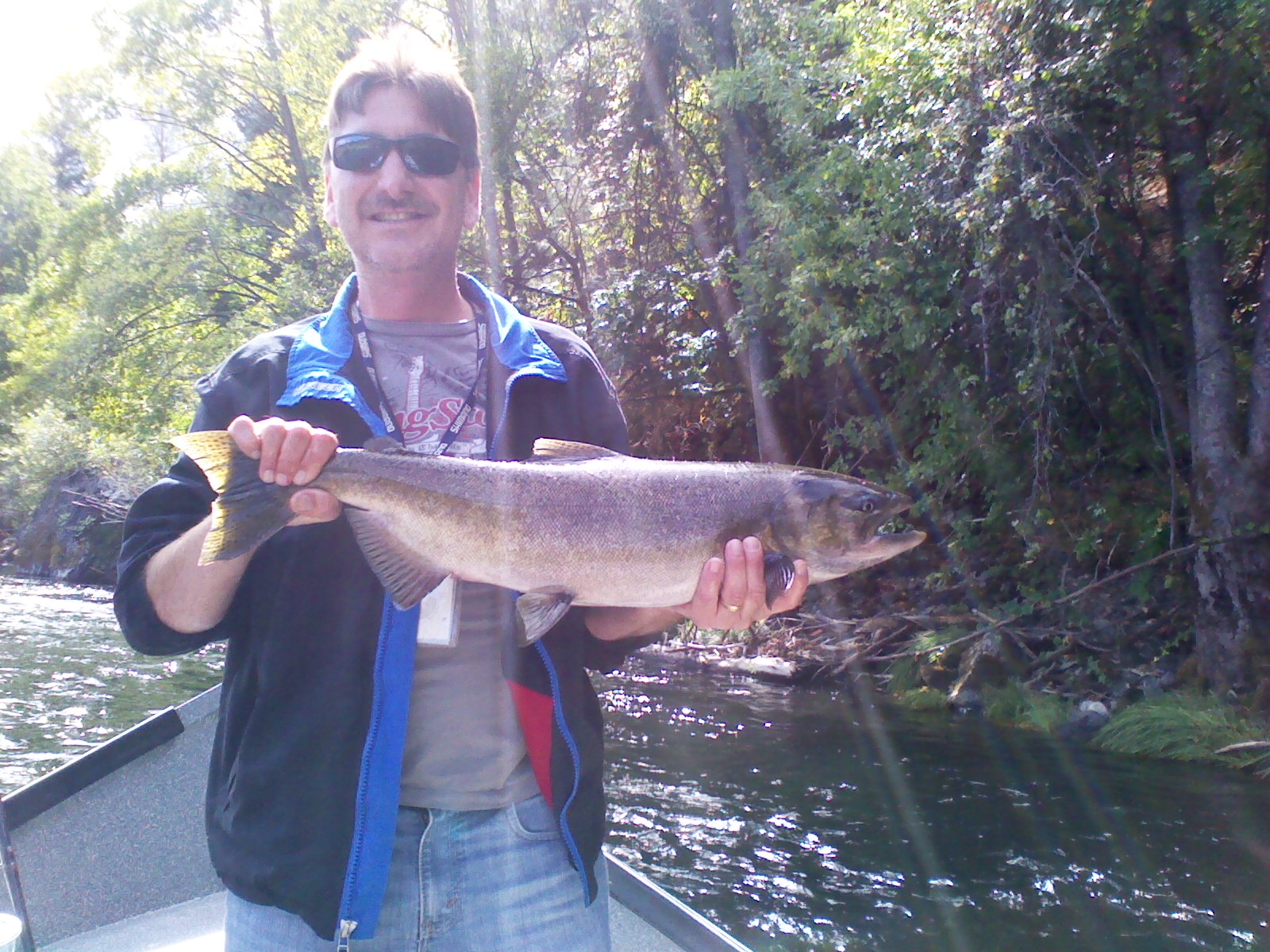 Fly Fishing for Rainbow Trout on the Sacramento River
August 2011
Sacramento River
Trinity River Salmon Fishing August 2011
July 14 & 15, 2011
Lower Sacramento River
River flows – 12, 500 CFS
Today got to fish my Trinity River client , Jerry (on the right) and his friend Jack for the first time. We fished a half day on the 14th from bonneyview to Anderson River Park, we fished from about 4:00P to about 9:00ish. It was a good day, we nymphed approximately 30 hookups. We landed about 75% estimated. We discussed fishing dry's cutted the boat off about 2 miles from the dry spot, and moved to it. Once we got there, not much dry's but Jack hooked quickly 2 trout on an Elk Hair Caddis. Then the hatch happened lasting about 20 minutes, just constant splashing from the fish. We ended up hooking 7 trout and landing 2 trout. Jerry caught a real nice 17 incher, then the hatch shut off and the river was quiet. I got them back in time to eat at Applebee's because we got back so late, but it was worth it. On the 15th we floated from the Possee Grounds to Anderson (12 Mile stretch), Jack caught the fish I am holding and the one he is holding. Both the fish were over 20 inches, the picture doesn't justify the size of the fish. Both of the fish were caught on PMD patterns. The rest of the day was productive, we hooked over 40 fish with a good land ratio. Good job guys it was nice spending 2 days with you. See you this fall for steelhead on the Trinity.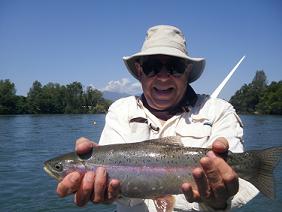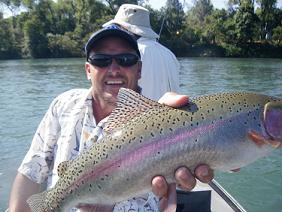 July 8, 2011
Lower Sacramento RiverToday
I fished with Andy and Eric, we floated from the Possee Grounds to Anderson River Park. It is a 12 mile stretch that goes thru the City of Redding, and ends in the City of Anderson. We are on a cool spell, I have never seen weather like this. The local weather channell said that we have not had a cooling spell like this since 1952. The river really fished well today, another day of losing count which is a good thing. The flies were pupa's, birds nest for caddis, and mercer poxyback pmd, and Hogans s&m mayfly bwo.
June 28, 2011
Lower Sacramento River
I fished with John today, we floated Possee grounds to Anderson River Park. The morning started out a little slow, by late morning the bite was on. We consistenly caught fish all the way to Anderson River Park. We hooked over 30 Trout, we landed about half.
June 23, 2011
Lower Sacramento River
Today I fished with Larry and Bill. Bill said it was his best day nmphying, the fishing was Summer Cadis, PMD's and little blue winged olives. We tried some dry's in the evening, but not much of a hatch was going on. I am sorry Larry, can't find any pictures from our trip, but I sure enjoyed fishing with you.
June 18 & 19, 2011
Lower Sacramento River
I had a two boat trip with the Bottinni Family which are always fun, the Fly Fishing guides were Aaron Grabiel and myself. The first day we fished from the Possee Grounds to Anderson River Park (12 mile stretch). The second day we fished from Bonnieview Boat Ramp to Balls Ferry. Once we reached Anderson the bite slowed down quite a bit. All in all, two boats in two days, landed about 71 fish and hooked 120.
June 15, 2011
Lower Sacramento River
Four boat trip, the guides were Mike Hibbard, Slim, Gabe and myself. The fly fishing was good, all boats stayed busy with hook-ups and landed fish. Another great day Fly Fishing on the Sacramento River.
June 14, 2011
Lower Sacramento River
I fished with Larry and Bob, typical Sacramento River day. I am not sure of that exact number we caught but we were very busy. The fish were biting on Summer Cadis and PMD's were the main flies.
May 30, 2011
Lower Sacramento River
Took out Brian and Smokey on the Lower Sacramento River, these guys did a great job! They were forced to learn the Madison Cast, because we were in 30-40 mph wind, not an easy day in fly fishing. They really persevered and did a great job and had a good time.
May 22, 2011
Sacramento River
Fished Rick and his son, Kyle. The fly fishing was a little stonger today we lost count that's a good thing. The Rubber Legs was are strongest fly followed by sucker spawn egg pattern,caddis and mayfly patterns. And yes Kyle did net is fathers largest trout a true father son team. Good job guys!
May 21, 2011
Sacramento River
Today, I fished with Al and his son, Nick. What a great way to spend a day, fishing with your son. We had a good day flyfishing, the Trout were graby for most the day slowed down a little in the evening. But pretty good bite overall.
Today, I fished Matt and Mark, another good to moderate day. I didn't count but it was pretty good. Here is Mark holding an average Trout fish around 16 inches. Matt was camera shy, but he caught his share of fish also. Good fishing with you guys!
May 10, 2011
Lower Sacramento River
Today, I fished Chris and Bill, the fishing was moderate. We hooked around 20 fish. The fish were mainly biting on Stones and Eggs. It was a very nice day in the 80's light wind.
May 10, 2011
Lower Sac River
Today, I fished Bob and Larry .We had a very pleasant day 85 degrees sunny skys.We hooked estimated around 15 fish not a high number day but respectable day with a couple of big fish that came unbottone and a few to the net 18 to 19 inches just a fun day of fishing. How lucky we are to have river that is foe the most part consistent
May 7, 2011
lower sac river
2 boat trip guides were myself and mike hibbard.We had a great day of fishing. I fished Dave .He did a great job .Idont have the number of fish but he held is own.Mike had 2 anglers.At the end it was Joe in Hibbards boat that ran away with the day.Good job !
Sacramento River with Andy and DanHad a full day of fishing with Andy and Dan and hooked over 10 large Rainbow Trout. The weather was perfect and early afternoon fishing was better than the latter afternoon fishing. For more photos of the trip, click here
Sacramento RiverI fished with Tim and Todd from the Sacramento Area, they did such a good job I am going to just past their testimony. Thank You guys for the good time, fishing was fun I am just going to paste all of the pictures you sent. SEE Below
Tim and I went out on the Lower Sacramento River in Redding, CA over the last couple days (May 4 & 5) and had some epic rainbow trout fly fishing with Greg Hector from Hook Em' Hecky's Guide Service (www.hookemheckys.com). See photo album below!
We slayed em! Hooked around 60 fish and landed 30-35 of them. Some in the 22+ inch(3 lbs range). Using 5 & 6 wgt fly rods. The flows are good and the bite is hot right now so if you can break away, call Greg, book a day and roll up to Redding….ASAP!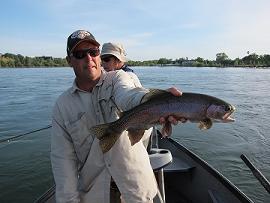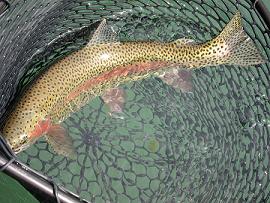 I fished with Butch and his son Matt on the Sacramento River, it was a nice day and we hooked about 20 fish. There was some lolls in between, but overall it was still good it wasn't raining and it wasn't cold, not bad for a slow day of fishing. These guys did a good job of taking advantage of the bite that we did have, they didn't miss many fish. ( No pictures)
April 22, 2011
Sacramento River
The flows were 6,000 CFS on this day. The Sacramento was really on today, we hooked 37 Rainbow Trout and we landed 24 of them. These guys were really on their game, all I can say is that I think our May bite is upon us. The Sacramento River should be solid from here forward.
April 19, 2011
Lower Sacramento River
The flows are around 6,000 CFS, 2 Boat Guide Trip. The other guide in addition to myself was Matt Mitchell, today we had to really work for the Fish. We still managed to hook 30 fish between 2 boats. The fish seem to be keying in on egg patterns, and a few rubber legs and PMD's. The bite that comes around should be happening any day now.
April 18, 2011
Sacramento River
I fished with John today, we fished for about 3 hours and we hooked 12 fish. John caught this nice Rainbow Trout.
April 15, 2011
Sacramento River
Aaron and I went out fishing today, we had a double hook up. These Trout were both 20+ Inches fish we caught them on Rubber Legs, Sucker Spawn and PMD's. We hooked over 20 fish, and it looks like the storage at Lake Shasta has sufficient room so I do not anticipate high water levels. Until irrigation starts in the Sacramento Valley around June.
April 4, 2011
Sacramento River
Flows 26,000 c.f.s.
The river is fishable and can be very good at these flows. I am going out tomorrow and I am predicting that it is going to be good, I will keep you posted. I did really well in 2006 at this exact flow. The sucker spawn , spring caddis and stones are all a good choice.
March 30, 2011
Sacramento River
50000 cfs
The river is closed to fishing until it drops below 40000 cfs i can fish it under 30000 cfs probably middle of april will fish again.everything else is gone to.
March 17, 2011
Saramento river
25000 cfs
Bureau of Reclamation said bump it up! ive done well once the fish acclamate .i like it better 3 day after a big fluctuation then it fishes good aslong as its not over 35000 cfs . be aware of water running threw the trees as you can be pulled in definately need expeirence for these waters If you dont just wait it will be dropping soon .
March 14, 2011
Lower Sacramento River
The fishing is finally on! I hooked up to 40 Rainbow Trout the other day in 4 hours time, it was awesome. While there is rain at times, it's not a cold rain so not unbarable .
February 21, 2011
Lower Sacramento
I have heard the fishing has picked up, I fished the lower Sacramento last on the 2/11, one Angler, 3 hours, landed 3 fish and hooked eight (8). We should be having our Spring Caddis hatch. This is the beginning, Spring is the best time for the lower Sacramento when it becomes THE premier fishing destination. Tight lines, good loops and hope to see you!
February 21, 2011
Trinity River
This rain that we are having brought some fish up in the Trinity River System, in addition to the Trinity River I have been fishing the Eel River, Southfork River, and Shasta Lake. I should have more information updatd in the next couple of days.
February 2 , 2011
Lower Sacramento river
Seeing some better hatches, we fished for 2 hours and hooked 4 fish on hydrophyce, P.M.D, and B.W.O. You still are h having to work for them, but it's worth it.
Feb 1, 2011
Trinity river
Fished Jim today we were 1 for 2 on adults old bridge to rush creek .Saw a Brown Drake and some p.m.d.s adults were rising to them couldnt get them to eat my patterns . still a nice day upper 70s
January 22, 2011
Sacramento River
Fished Tim and Pat today, I must say it is still fishing tough. We were 3 for 7 at Caldwell Park. Although the fishing was tough, it was a nice day with the weather being about 80 degrees .I dont care what any one says thats a nice day . yea we would like to catch 40 fish but that was alright .see you next time brother.
January 17, 2010
Sac River
I fished with Heather and Dicey, these ladies are awsome a lot of fun to be with .The river is in that tough modebut should be back by March I have seen this before and it always gets good. We hooked 5 and landed2 nice Rainbows. Good Job ladies!! (Sorry we didn't get a picture of Dicey)
January 10 ,2011
Trinity river
I Fished Joe (one of my regular and dedicated clients) and Jeff for 2 days. The First day we floated from what we call Swimmin Hole to Pidgeon Point. Our average was 1 for 3 on Adult Steelhead. The second day we floated Dutton to Swimming Hole. We were 1 for 4 on Adult Steelheads, 2 half pounders, and a small German Brown, all all more action i think this the norm this year you have to fish good because the fish are so spread out and not alot of them .
January 9 , 2011
Sacramento River
Today I fished with Russ and John had a good time, but only a few bites unfortunately nothing to talk about .
January 5, 2011
Trinity River
I fished Dave and Steve today. We floated Evans Bar to JC Campground, on the Trinity River. We were 2 for 2 on steelhead, but we had to work hard for these fish.