December 22, 2010
Trinity River, California
Fished Patrick and David today. We floated old Bridge to Buctail, we were forced up top due to high water. We were 1 for 2, the Big German Brown being the fish landed, the other fish that came off I figured to be 1/2 pounder. These guys fished really really good, there just didn't seem to be alot of fish around, but before the river blew I heard of 8 and 10 hook up days. When the river drops again it should be good.
December 15 & 16, 2010
Trinity River, California
Day 1:
We had two boats for two days, the guides were myself and Ross Wilkerson. The first day we fished Buck Tail to Steel Bridge, Hecky was 1 for 3, we would have been 2 for 3, but Butch's fish went foul into the fight about 5 minutes. We fought the fish anyway, and technically the fish did go into the net but came back out. The fish was around 10lbs. the closet thing we have is Butch's picture below fighting the fish. Ross was 3 for 5 the first day.
Day 2:
We fished Old Bridge to Bucktail, we went 3 for 3. As you can see by the photo Joe was quite pleased (the picture of the guy that looks like he knocked out the fish kinda like Rocky Balboa). Ross was 1 for 3 that day. We had to really work for these fish. Two days, four Anglers we were 8 for 12 on Steelhead.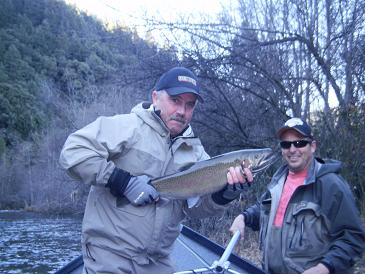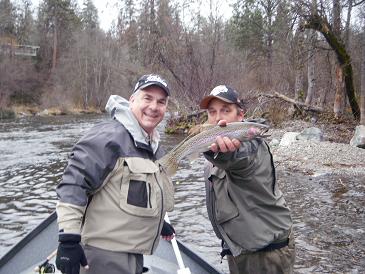 December 1, 2010
Lower Sacramento River
Flows 5000 cfs
Fished a group trip, there were 5 boats. We hooked 24 for 35 Rainbow Trout, Todd caught this nice 5lb plus. This was the nicest fish of the day, we caught some other dandies too.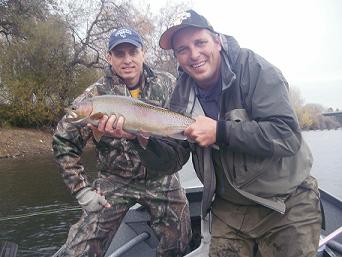 November 19, 2010
Lower Sacramento River
Group trip with Butch, Pat and Doc .Guides Myself and Ross Wikerson .The first part of the Day Was brutal for me no fish by 2 pm. Pat picked up the slack going 1 for 3 on bows . He had to leave by 2pm.Than we went bak up to Posse grounds and finaly got on 10 to 12 really nice bows it was Docs day though he landed a 20 inch trophy bow. even though it was tough fishing everybody got a fish to the boat in the 2 days always nice to fish you guys.
Nov 18, 2010
Trinity River
We did a group trip today with Butch, Pat, and Doc .Guides were my self and Arron Gabriel. Pat landed this fish at the put in and had a couple of opportunity and that was it. Butch hooked 2 or 3 and landed one at the n. fork Trinity But my battery went dead on my camera . You fished hard boys Just in between runs.
Nov 15, 2010
Trinity River
fished Joe today We hooked 3 Trinity River steelhead and landed 2 we fished Sky Ranch to Pigion Point.

November 17, 2010
Trinity River
Today i fished Bob and Fred again fishing wise we had to work .We hooked 3 Trinity Steelhead and 1 big brown over 5 lbs jumped and came off. Fred fought a 10 to 12 lbs for a half hour came on buttoned at are feet .I told him it was a landed fish I dont think he agreed . but man that fish was done good job Fred.
November 16, 2010
Trinity River
fished Larry and Larry today .Today the fishing was tight but we managed to hook 3 and land one .You can also see the boys do know how to use their time wisely when not fishing.
November 14, 2010
Trinity River
Fished Gary and Wiley we hooked five and landed three like every day we had to fish hard. these fish we hooked today were very bright lets hope this run keeps coming. Gary's fish jumped no kidding 20 times way to hold on to that fish.
November 11, and 12, 2010
Trinity River
Fished Curtis and Roberta fishing has been moderate . We had to work for them but man can this couple fish.Two days we hooked 11 adult Trinity river Steelhead and landed six good job Curt and Bert.
Nov 9, 2010
Trinity River
Fished Tom today we hooked 3 Steelhead didnt get any in but had a good day .
October 27, 2010
Trinity river
Today John and I fished Lime point to Pigeon Point. We were 3 for 7 on adults, seems most of the smolts are gone. John caught that nice German Brown (below), had to at least hold it because it was the biggest Trinity River Brown I have seen in a while. Both of John's Steelhead were wild fish . Looks like it will be a decent year.
October 20, and 21, 2010
Trinity river
Fished a group trip with three boats. We fished Junction City to Pigeon Point, hooked four or five Trinity River Steelies. Elliot caught a nice 8lb Steelhead . The second day, Ernie and I fished the Sacramento River in Redding Ernie got this nice Rainbow Trout. These guys really know how to have a good time!
Lower Sacramento River
October 8, 2010
Fished with Rick and Rob Sardi, I actually got to fish for a moment and we had a Bob Marley Video nice double hook-up and double-land of these pretty Sacramento Rainbow Trout. They were both caught on Cadis. We actually saw more Salmon this day then we've seen the whole year. The egg bite for the Salmon should be starting anyday.
Lower Sacramento River
October 6, 2010
Had a great time fishing with Butch and his son, Matt. The fishing was moderate in the afternoon, and it picked up in the evening. Hooked between 30 and 40 trout, as usual Cadis and Mayflies were the top pick. The egg bite hasn't started yet, but it is just around the corner.
Lower Sacramento River
October 1, 2010
Fished Larry and Bob today (below). Fishing was moderate during the morning and afternoon. The fish that were caught were caught on Batis and late afternoon until 7:00PM fished really well, the Catis seemed to take over for the fly of choice.
September 25, 2010
Sacramento River
Fished Mike and Casey on the Lower Sacramento River. It was our last hot weekend of the summer. Fished Caddis and Mayflies. We did well, and had a great day.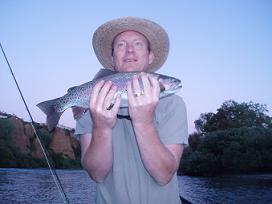 September 24, 2010
Sacramento River
Fished Rob and Ed on the Sacramento River today. Had a fantastic trip. Caddis and Mayflies all you need. We hooked about 25 fish in 3 hours, what more can you ask for? Another Great Day on the Sacramento River.
September 21, 2010
Sacramento River
Flows 6500 CFS, fished brother Tim Hector, (Below), on the lower Sacramento River today. The fishing was great, the average trout was 17″, on Birds Nest and Pupa's Caddis Patterns.
Sept 16 2010
Lower Sacramento River
Fished John and Gary today. We had a great time .Caddis and B.W.O. both worked well. John commented on how big the fish were.We hooked somewhere between 20 and 30 bows . Average fish 18 inches. We are going Salmon fishing on the Trinity River Monday watch for Trinity Report.
September 8, 2010
Sacramento River
Fished Dave Boss on lower Sacramento River, landed 8 Rainbow Trout, we hooked another 4 more. Fish were feeding on Caddis and May Flies. The Sacramento River flows are at 8,000 cfs, the fishing was great, the weather was about 80 degrees.
September 6, 2010
Trinity River Salmon Report
Fished Jim Elliot today .We had 6 grabs hooked 4 salmon landing two a 14lbs and 10lbs both fish were caught on a guick fish with sardine rap. Fished Junction City.
Fished Bruce Reynolds owner of Shasta Ride-N-Glide.com (segways) . We caught this fish at 12 noon on a guick fish .Trinity river as reports of salmon on the way .I will be making more trips so watch for updates the river is flowing at 450 cfs.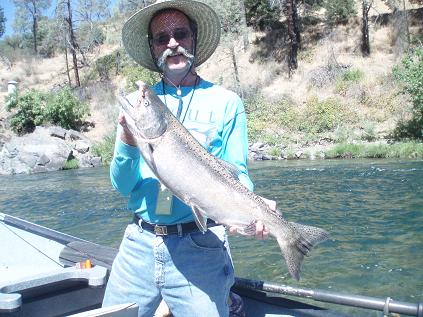 Fished Dave and Judy on the lower Sacramento River and we had a fantastic day. We started at Bonneyview Boat ramp at 12noon and went to Anderson River Park and hooked 15 fish. Most of the fist were under 15 inches. The biggest fish was 15 inches. Put the boat on the trailer at Anderson River Park and went to Posse grounds boat ramp and did a float to Cypress Bridge and we hooked another 15 fish at least, and these fish were 17- 21 inches.daveand_judy
Fished Trinity River toay with Bruce Reynolds owner and friend of Shasta N Ride. Not alot of salmon but we got one nice bright king at 12 noon on a guick fish . Saw a few Steelhead but didnt fish stayed focus on salmon.Looked off the highway and saw salmon in some of the holes. thier comming ! Booking fall run fishing through sept
Fishing is unbeleivable cant believe right in Redding Ca we have some of the best trout fishing in the world.My summer special wont last long call now for your booking it is nice on those summer evenigs. caddis and mays b.w.o. and p.m.d. thats all you need and a boat .wading wont happen till this fall.
Aug 20, 2010
Lower Sacramento
Took Andy and Lisa Main fishing for an evening trip. The first hour was slow but by the end of the evening we had hooked over 20 trout. It was Lisa's first time fly fishing and after a few lessons she was hooking and landing the trout like a pro. Andy said it was the best day of fly fishing he had ever had.
Lisa's First Trout caught fly fishing on the Sacramento River by the Sundial Bridge.
Andy's "Best Day" fly fishing ever on the Sacramento River!
Aug 19, 2010
Lower sacramento river
Flows 9,500 c.f.s. Just spent 3 days in a row on the Lower Sacramento. It was awesome. Tonight we hooked 15 to 20 we didnt count but it was good. We had four doubles and the size of the fish you wouldnt believe me average fish 18nches and mean like three pounds a couple of the fish were pushing 5 lbs. Tonight it was caddis( Birds Nest,Fox's Poopah). Yesterday was Mayflies(B.W.O. AND P.M.D.)
TAKE ADVANTAGE OF THE TWILIGHT TRIP SPECIAL!
IT WILL BE OVER WHEN SUMMER IS!
HOPE TO SEE YOU SOON!
Fished Trinity River AUG 16, 2010 saw salmon i wade fished didnt get one but had two grabs .going over with my boat on Monday 23, I wil have better report than . There are also some adult steelhead in the Fly water in Lewiston.
Flows10500 cfs. The river is fishing well use caddis and mayflies you cant go wrong .
Fishing is good use stones ,caddis, and mayflies.
Flows are at 450 cfs salmon and a few steelhead and browns are reported being caught. crowds are light a good time to try.
The Lower Sacramento River
Sacramento River flows are at 12500 cfs. The river is fishing silly good this is much better than summers last two years. Bite consist of summer caddis,blue wing olive mayflies and pale morning dun mayflies. Fish have been big all summer!
Fished 4 days on Upper Sacramento River this week .Fishing was good and pressure was moderate. stones, caddis, and mayfies all worked well didnt throw one indicator . Dud throw droppers off my drys . I fished Caddis drys(Mercers Missing Link) and P.M.D.(Spotlight Emerger) . Had 15- 20 grabs hooked 11 the kool thing was the size and fight of the fish I think the long spring we had helped fishing on the Lower and Upper Sacramento Rivers.
I have heard mixed reports for the Trinity I have heard there are salmon and steelhead throughout the trinty system. the flows are now managable The fly water in Lewiston wwould be a good place to fish for steelhead (CADDIS ,STONES AND MAYFLIES).
Sacramento River flows are at 12,500 days are slow to moderate in the heat of the day. The evenings have been great with Caddis and Mayflies (P.M.D. and B.W.O.) We have been getting big fish averaging fish 15 inch to 23 inches, with fish up to 6 lbs .
Flows are steady at 12,500 cfs. Sacramento River is your best bet for big Rainbows Trout. In the evenings it is to hot for a full even half day, I will still do them, but my clients have been happier with the twilight trip. We are hooking up to 10 fish in the heat of the day and up to 25 in the evenings. Mayflies and Caddis are working well.
Current flows are at 12,500 cfs. Twilight Trip the best bang for the buck! We are currently averaging 25 hook-ups in three hours of fishing. The afternoons are slow, but 5 pm on its awesome. Baetis ( Blue Wing Olives) Mayflies and Summer Caddis is all you need. The Trinity River is showing signs of Steelhead and Kings. We're making a trip and will have report soon.
Current flows are still at 12500 cfs. Come try our Twilight Trip from 5:30 to dark. The bite is good in the evening and the temperature is cooler on the river. Summer Caddis, Baetis, Yellow Stonefly, and PMD's are fishing well on the Sacramento River. Dry's consist of PMD's in the afternoon and Caddis in the last hour before sunset.
Current flows are still at 11000 cfs. The bite is getting better and bigger. Summer Caddis, Salmonfly, Golden Stonefly,Yellow Stonefly PMD's and BWO's are all fishing well on the Sacramento River. Dry's consist of PMD's in the afternoon and Caddis in the last hour before sunset.
Current flows are at 11000 cfs. Summer Caddis, Salmonfly, Golden Stonefly,Yellow Stonefly PMD's and BWO's are all fishing well on the Sacramento River. Dry's consist of PMD's in the afternoon and Caddis in the last hour before sunset.
Current flows are at 8500 cfs. Nymphing stones, PMDs, spring caddis (black, olive, and tan) with BWO are all fishing well on the Lower Sacramento River. The best bite is mid-morning to early evening.
Current flows are at 7500 cfs. Nymphing stones PMDs, baetis and spring caddis are all working well on the Upper Sacramento River. Flyfishing drys on Lower Sacramento River with pmds and cadis in the afternoon.
Current Flows are at 6500. Sacramento River fishing well in the late monring to late afternoon with afternoon being the best fishing. Flyfishing in the Spring on the Sacramento is the best time of year for catching trout without being too cold or too hot.
Current flows are at 3200 CFS, Trout fishing is steady with PMD's, BWO's, and spring caddis. Today's weather in Redding should be a high of 78 degrees with overnight lows in the 40s. Spring is the highlight for the Sacramento River System. Fishing is good.
We Just spent two days on the Upper Sacramento River just passed Lakehead. We got a little advise from my friend Tim Fox at the Redding Fly Shop, and it worked well. The fish we got fought hard and long. Caddis, Yellow Stones, and Golden Stones, and Black Mayflies are fishing well. Definitely a hot spot! things are running late from all the rain but, both Upper & Lower Sacromento Rivers are really fishing great.
Salmon are threw out the river system there are also some Steelhead I'm going over to the Trinity River on Friday. I will post a report soon. We are expecting a good run of Steelhead this year.